This is the English wording for an article I wrote for the Japanese magazine "Racing On".
In mid 1989 Peter Collins attended the F3 race at Silverstone. He knew his friend Keke Rosberg was looking after a young Finnish driver who Rosberg thought was very good. Standing at Luffield corner on the old National circuit, Peter watched a close battle between two young Finnish drivers contesting the Championship, Mika Salo and Mika Hakkinen. Although Hakkinen was ultimately the loser in the battle, spinning to the interior of the corner and touching the barrier, Collins was extremely impressed with his judgement and precision in the intense battle as they ran inches apart, side by side.
He recalled, "I was really impressed with both the young Finns, but at the time Mika (H) just seemed to have a little extra sparkle. Hakkinen had very good spatial awareness, he knew exactly where he was in relation to Salo and the track edges. He had beautiful car control and finesse, even during the intense battle". Collins had earlier seen Hakkinen in the paddock and observed his confident and focused approach.
In August of 1990 Collins was looking for a new project and was in discussions with Tony Rudd about taking over Team Lotus. In the event that the takeover was successful, Collins was keen to have a quick young driver in the car. "I knew then that if the deal for Lotus went through, Mika was a driver I would go after." In early December 1990, he called Rosberg to discuss signing Hakkinen. The former Finnish World Champion, Rosberg was initially nervous at the idea, he didn't think that his protégé had enough experience to make the jump to F1. But Collins had no doubt and was determined to sign him. He had seen first-hand something special in the talented young Finn.
Before Collins could complete the deal to take over Lotus, Hakkinen was invited to test the Benetton. However, Benetton Team Manager, Flavio Briatore, failed to recognise the young Finn's talent. Briatore's lack of ability to spot talent left Hakkinen on the driver market and played nicely into Collins' hands.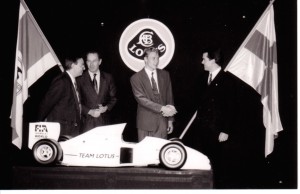 Although Collins had been impressed by the on track displays of the young Finn, the two did not meet in person until early December, when they went to Helsinki to announce Hakkinen's graduation to F1 with Team Lotus. Hakkinen appeared a little overawed at the opportunity before him, but his endearing charm quickly won people over.
With the Team on an incredibly tight, almost non-existent budget, the young Finn came to live in Norfolk (UK) in a shared house near the Team Lotus factory, with Peter, his wife Jane and their daughter Samantha, as well a few other team members. He was like a lost child, he had never lived away from home before and was still pretty naïve. Hakkinen and Samantha got on very well, his cheeky nature and big smile quickly made him feel like he was part of the family. Mika was an incredibly talented young man, but still very unworldly and young at heart.
Collins was critisied by many of his peers as well as the press for taking such a young driver straight from F3 to F1, but in Hakkinen's first F1 test after signing for Lotus, his immediate speed brought to an abrupt end any doubts others had raised. Despite driving a two year old Lotus with a Judd engine his speed and car control was impressive. Collins went out to watch his first laps at the very fast and challenging old Club corner at Silverstone. After three laps Collins had seen enough to know he had signed someone special, so he left the test and went back to the Team's headquarters at Ketteringham Hall.
The night before first practice in Phoenix for Hakkinen's F1 debut in March 1991, Collins said he must have had at least three phone calls from Rosberg who was panicking about whether Hakkinen would be ok, saying, "PC, are you sure Mika will be ok, is it too early? It's a big step". Collins did his best to assure Rosberg that he had no doubt of Hakkinen's ability. "I slept well the whole weekend, but I don't think Keke did" he recalled.
Hakkinen was quickly at home amongst F1's established stars and qualified an excellent 13th in a below par, hurriedly adapted car. It was an outstanding performance. The result was a great reward for the team as when Collins and Peter Wright took over the Team, they had nothing; no chassis, no engine, no drivers, no sponsorship. They quickly redesigned the T101 Lamborghini car to take second hand Judd engines they had bought from the Brabham team, the first part of the jigsaw puzzle. There was no time for stress and structural analysis, all they knew was that they had to strengthen the tub and the suspension components to make sure there wouldn't be any failures that would cause accidents. The end result of the safety first rush job was that they ended up with a car that was around 40kg over the weight limit, which probably cost them over a second a lap!
Mika Hakkinen was the third part of the puzzle, for as well as being the 1989 British F3 Champion and incredibly talented, he was a good looking young blonde-haired boy, which was very appealing to the Japanese market. The Lotus name, Collins's past personal association with Colin Chapman and a young blonde Finn became the marketing platform. Together they managed to raise enough sponsorship, thanks largely to their enthusiastic Japanese sponsors, to keep the wheels oiled as the team got moving on their crusade to keep Chapman's team alive.
Having Mika in the cockpit gave the team great heart, and as Collins quickly learned, "When Hakkinen was ready to go, he would give a quick double clap of his gloved hands, and you knew you were going to get something pretty special."
As the world came to know, Mika Hakkinen was indeed "pretty special".
Ends